Update on Sam a Roman/Claire pup
Paula,
We wanted to wish you a Happy Easter and let you see how Sam is growing into quite the handsome boy. Here he is with Gabby who is delighting in teaching him the joys of a meadow and a muddy pond. He is equally fond of the beach at the cape. He is such a happy dog and eager to please. Thank you for a wonderful addition to our family.
Update on "Murphy" from his owner Sue
he resides in New York,
 Murphy is a Claire/Rockefella pup!
Hi Paula!
 
I'm just writing to brag about my puppy Murphy. 
 Today he picked up the newspaper off of the walk and brought it to my husband. 
 YEA.  He has been incredibly easy to train and can do all of the basic tricks, except roll-over.
 I love the fact that he'll drag the blue blanket--the one that we rubbed all over his mother
--out of his crate so he can lie on it on the floor and sleep!  He's fun.
 
Sue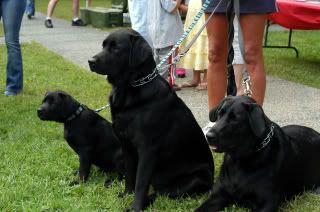 The pup on the left is a Roman/Claire girl,"Samanna" 
she is loved by Jim and Lisa of Salem Ma.  She lives
with 2 other lab girls "Sierra" & "Saba"  Here the girls
are watching two shepherds from the Essex county
sheriff's department giving a demonstration!
Katie from Bradford Ma. writes:
Paula,
I wanted to give you an update....I recieved a male puppy from you from Claire and Roman's December litter,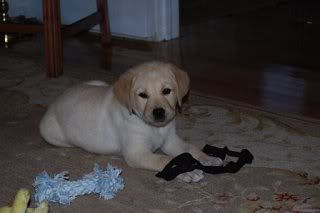 (He was the male with the blue tie) I named him Louie and he is now 7 months old.
He is a blast!!!He has the best personality. Very playful and great with kids.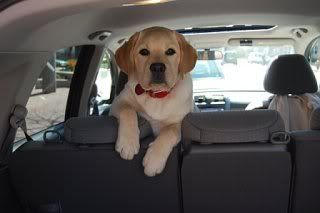 He loves to swim in the lakes and loves the beach.
I enclosed a few pics of him.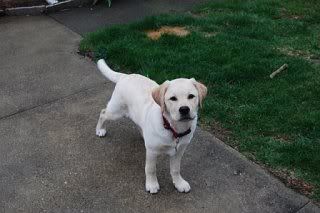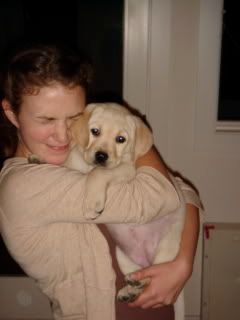 Pictured above is a Claire/Roman female                                                                                               
named Scholar, she is loved by Laurie and
Kate, and resides in Rockport, MA.
Update on "Scholar"!!!
Hey Paula,

I just wanted you to know that the pup you gave me is a fantastic dog. She's small: 55 pounds/21 inches, and very white except for her ears and a thin strip on her back. I get daily compliments on how well behaved and beautiful she is (as if I had anything to do with that!). She is incredibly athletic. Her favorite sport is out running other dogs on an natural obstacle course through the woods. Second favorite is swimming after oversized logs in the quarries. Third favorite is chasing a ball (but only if other dogs are competing). She is astonishingly obedient; she stays within 10 feet of me when she's off leash in the woods or at the beach, which is 99% of the time. She is also extraordinarily friendly with all dogs (the vet says she's definitely the omega dog), adults and children. Her only vices are chasing cats and occasionally greeting people by jumping on them. She rarely barks, never gets on the furniture or chews anything, and fortunately has outgrown her proclivity for landscaping my backyard. I thank you for breeding the perfect dog.
Thank you again for breeding such a great dog,

Laurie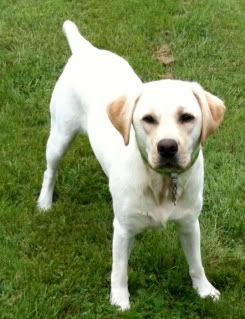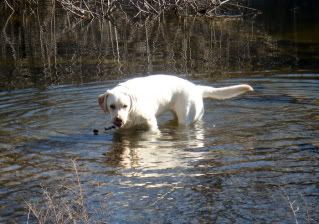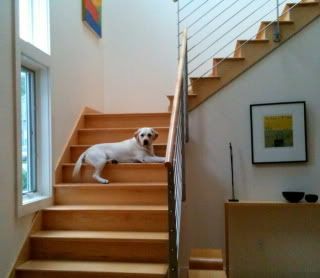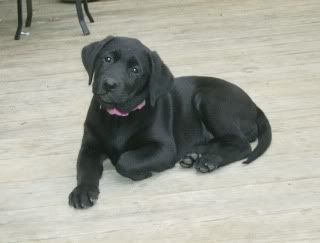 This is a Claire/Roman female pup, she now resides
with the Cronin family of Lynn Ma.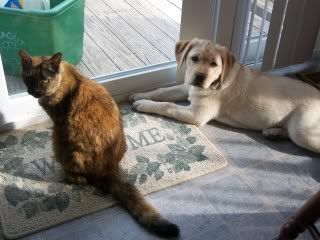 This is Sadie, she is pictured at sixteen weeks old.
She is a Claire/Roman pup.  She lives in Dracut Ma.
I hear she is very well-behaved!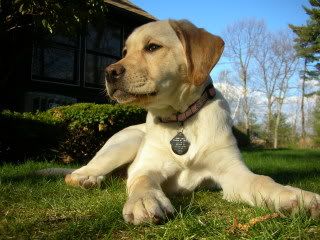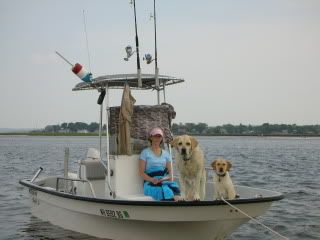 This is "Daisey" sired by CH Ocean Spray Rockefeller and Dano's Luck Be A Lady Claire
she is loved by Jon & Stacey.  She loves boating with her friend "Maisey"(on the left) "Daisey" on right!
(Daisey's owners e-mailed me to say)....